Locally Grown, Locally Sourced, Locally Produced
in Lexington, Massachusetts and Beyond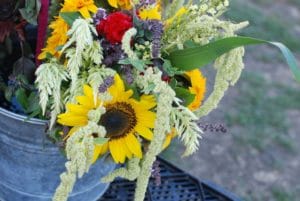 Seniors Day!
Postponed to Tuesday, September 26th
Come join us for a day of healthy living, healthy food, and healthy fun!
The Lexington Department of Public Health will be performing free blood pressure screenings along with distributing information on diabetes prevention, public flu clinics, medical waste disposal, and more. CareOne at Lexington, a LFM Sponsor, will be providing information on rehabilitation awareness and will be passing out free giveaways! Plus, come find out how you can join Lexington at Home, a voluntary association of Lexington seniors sharing a common interest in preparing for "aging in place".
Shop the market for local, healthy food. The first 30 seniors (65+) to stop by the market manager's tent get a free $2 gift certificate good with any food or farm vendor.
Getting to the market:
Take the Lexpress to the Market from the Community Center!
To the Market: Take Route 1 – Suggested Times: 1:35 pm & 2:40 pm
Ask to get off at the Lexington Farmers' Market
To the Community Center: Take Route 1 at the MBTA stop across from the Post Office – Suggested Time: 3:45 pm
or Take Route 1 or 2 from Depot Square
Visit the Lexington Lexpress Website for a complete schedule of all Lexpress times and locations or the FAQ section on our website for additional ways of getting to the market & for Parking Information.
The LFM accepts SNAP, HIP, and Farmers Market Coupons including WIC & Senior FMNP. Double your SNAP dollars up to $15/week. Stop by the market manager's tent for more information.
---
  Looking Forward: Upcoming Market Events
Senior Health Day – Postponed to September 26th
October 17th – Harvest Festival
October 31st – Halloween
---
Thank you for a Successful Local Food for SNAP Silent Auction!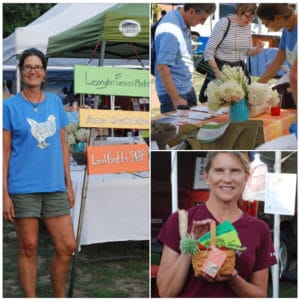 Thanks for another successful Local Food for SNAP Silent Auction, we were able to raise an astounding $2,120 to benefit the LFM's weekly SNAP match & end of the month "Close the Gap" program. Thank you to all the LFM farmers and vendors for their generous contributions, all who came out to bid and support the event, and to LFM volunteer Liza Connolly for organizing. If you missed the auction, there are still ways you can support the SNAP program with your donation.
SNAP funds help those in need in our community to buy healthy, local food from LFM farmers and vendors. With the demand for SNAP greatly increasing this season, the money raised from this year's auction is significant step towards reaching the funding needed for our summer market. However, we still need to raise over $1,600 to meet the increasing need for SNAP support.  Please consider donating to our campaign and keep an eye out for future fundraisers this season!
LFM 2017 SNAP Fundraising Facts:
New incentive programs for healthy eating have dramatically increased the number of SNAP customers at Massachusetts farmers' markets this year

Number of daily SNAP customers at LFM has doubled since last year (2016)

Demand for SNAP funds at LFM is already up 50% this season, and is predicted to double by the end of the market season

The LFM needs to raise $5,000 to meet demand for SNAP at our summer market and Thanksgiving FEASTival

The Local Food for SNAP fundraiser raised over $2,100, vital funds towards our SNAP goals. Additional funds have come in through outreach and fundraisers.

The LFM needs to raise an additional $1,600 for the summer season and Thanksgiving FEASTival alone
Donations can be made at the market each week or online at anytime.
---
 2017 Farmers and Vendors
Ava's Caramel Popcorn (May-June)
Boston Smoked Fish Co
Boston Sword & Tuna
Bread Obsession
Busa Farm
Charlton Orchards Farm
Coastal Vineyards (coming every other week)
Copicut Farm
Deano's Pasta
Del Sur
Flats Mentor Farm
Goodies
Habibi
*The HERB FARMacy
Hi-Rise Bread Company
Jaju Pierogi (coming every other week)
Laszlo Family Farm (guest vendor)
Lilac Hedge Farm (guest vendor)
Narragansett Creamery
Niemi's Apiary (coming every other week)
On the Edge Knife Sharpening (guest vendor)
Pour Man's Coffee
Prospect Ciderworks (coming every other week)
River Rock Farm
Roasted Granola Company
The Savory Root Farm & Kitchen
Stillman's Farm
Swiss Bakers
*Wright-Locke Farm
*Certified Organic Vendor
Please check out our Farmers/Vendors page for more information on each vendor and their market schedule.
For the most up to date information of any changes to the schedule or farmers/vendors that aren't able to make it, check our Facebook page.
---
We are happily full for the 2017 season, and no longer taking new applications for farmers and vendors.  If you are interested in getting in touch about providing entertainment, volunteering, or participating in our community tent, email [email protected] for more information.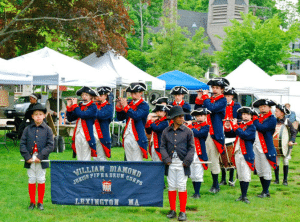 ---
photography by Leslie Wilcott-Henrie
---

Special Appreciation
The Lexington Farmers' market appreciates the support of our sponsors: Joyce Murphy from William Raveis Real Estate, Cycle Loft, Aloft and Element Hotels, CareOne Lexington, and Lexington Pediatrics.
We would also like to offer special thanks to Barry Tuber of PersonalCTO.net for his continued assistance with our website!