Locally Grown, Locally Sourced, Locally Produced
in Lexington, Massachusetts and Beyond
 
---
 Looking Forward: Upcoming Market Events
August 29th – Tomato Fest & Back to School Event
September 12th – Local Food for SNAP Fundraiser
September 19th – Senior Health Day
October 17th – Harvest Festival
October 31st – Halloween
---
 2017 Farmers and Vendors
Ava's Caramel Popcorn (May-June)
Boston Smoked Fish Co
Boston Sword & Tuna
Bread Obsession
Busa Farm
Charlton Orchards Farm
Coastal Vineyards (coming every other week)
Copicut Farm
Deano's Pasta
Del Sur
Flats Mentor Farm
Goodies
Habibi
*The HERB FARMacy
Hi-Rise Bread Company
Jaju Pierogi (coming every other week)
Laszlo Family Farm (guest vendor)
Lilac Hedge Farm (guest vendor)
Narragansett Creamery
Niemi's Apiary (coming every other week)
On the Edge Knife Sharpening (guest vendor)
Pour Man's Coffee
Prospect Ciderworks (coming every other week)
River Rock Farm
Roasted Granola Company
The Savory Root Farm & Kitchen
Stillman's Farm
Swiss Bakers
*Wright-Locke Farm
*Certified Organic Vendor
Please check out our Farmers/Vendors page for more information on each vendor and their market schedule.
For the most up to date information of any changes to the schedule or farmers/vendors that aren't able to make it, check our Facebook page.
---
We are happily full for the 2017 season, and no longer taking new applications for farmers and vendors.  If you are interested in getting in touch about providing entertainment, volunteering, or participating in our community tent, email [email protected] for more information.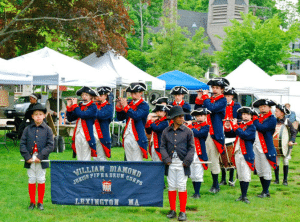 ---
photography by Leslie Wilcott-Henrie
---

Special Appreciation
The Lexington Farmers' market appreciates the support of our sponsors: Joyce Murphy from William Raveis Real Estate, Cycle Loft, Aloft and Element Hotels, CareOne Lexington, and Lexington Pediatrics.
We would also like to offer special thanks to Barry Tuber of PersonalCTO.net for his continued assistance with our website!