Our regular market season has ended, but…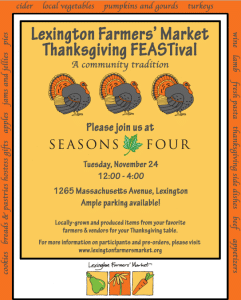 The List of Attending Farmers and Vendors:
Copicut Farm
River Rock Farm
Signal Rock Farm
Charlton Orchard
F. Busa Farm
The Herb Farmacy
Roasted Granola
Swiss Bakers
Samira's Homemade
Niemi's Apiary
Nella Pasta
SA's Homemade
Boston Smoked Fish
Sfolia Baking 
Coastal Vineyards
On the Edge Knife Sharpening
Uncommon Feasts
Pre-Order to help your farmers and vendors plan!
Need a special item? Want to make sure it is not sold out when you get to the market? Pre-order!
The following farmers and vendors take pre-orders, please contact them for more info!
Sfolia-Submit orders online at www.sfoliabaking.com. Order by Friday the 20th

taralli, crisps, flatbread and almond cakes. Bulk quantities are available too.
—–
gougeres with Jasper Hill Cabot clothbound cheddar
chicken liver mousse with calvados
creamy white beans served with pickled apples
swiss chard tart with currant pine nut relish
chanterelle and trumpet mushroom tart
onion, comté and applewood smoke bacon tart
hubbard squash soup with pain d'epices croutons
butternut squash crumble
Normandy apple tart with calvados soaked currants
maple buttermilk pie
apple cider and caramel ice cream
—–
Know you want something particular? Browse her selection of lamb and wool products, and send in orders to ensure your holiday is complete!
 —–
 River Rock Farm
check out their selection of cuts
here!
—–
SA's Homestyle Sauces

All varieties can be pre-ordered: Mild, Hot, X-Hot, Hot & Mild w/ organic apple cider vinegar. We have 8.5 oz glass bottles, 8.5 oz plastic bottles w/ spout, and 18.5 oz large bottles available. Customers can email their requests to: 
[email protected]
.
—–
Apple pies, dumplings, and cider
Eggs
Apples
Potatoes!
 —–
Nella Pasta, Nellapasta@gmail.com-
Ravioli Bake: 
Smoked Mozarella, White Bean & Sage Ravioli layered with homemade tomato sauce and mozzarella
Vegetarian Lasagna-
Spinach, Roasted Eggplant and Caramelized Onions with Mozzarella, Ricotta and Parmesan
Ravioli: Reserve your favorite…
Roasted Butternut Squash & Sage
Roasted Red Pepper, Goat Cheese & Chive
Kale & Currant
Three Cheese & White Bean
Brussels Sprout, Caramelized Onion & Asiago
Corn, Caramelized Onion & Thyme
Roasted Beet, Goat Cheese & Tarragon
Mushroom Duxelles
---
Where Will My Favorite Farmers and Vendors be During the Winter?
---
"The demand for fresher, local food has taken root!"

Clean Living Magazine

has announced their picks for
"Americas 50 Best Farmers' Markets"
and the LFM is proud to be the MA choice.
Delightful photography by Leslie Wilcott-Henrie!
---

Special Appreciation
The Lexington Farmers' market appreciates the support of our sponsors, Joyce Murphy from William Raveis Real Estate, Encharter Insurance, aloft and element hotels, Eastern Bank, Seasons Four, and Cycle Loft.
We would also like to offer special thanks to Barry Tuber of PersonalCTO.net for his continued assistance with our website!